When I was in col­lege, cre­at­ing dig­i­tal art­work just was­n't my thing. I love mak­ing stuff by hand! But with the advent of tech­nolo­gies like the iPad and Apple Pen­cil, it's now eas­i­er than ever for me to pro­duce illus­tra­tions that feel like ana­log draw­ings, but they have the ease of dig­i­tal. Adobe Fres­co is the lat­est app to be released in the realm of high-end draw­ing and paint­ing apps.
It's incred­i­ble; Fres­co has the func­tion­al­i­ty of Pho­to­shop but in a mobile app.  If you know Pho­to­shop, you'll quick­ly get the hang of Fres­co, but if you're like me, you might feel over­whelmed with where to start. Luck­i­ly, Skill­share is here to help. The online learn­ing com­mu­ni­ty has part­nered with Adobe and launched sev­er­al class­es, taught by pro­fes­sion­al artists and illus­tra­tors, to help you get the most of this next-gen­er­a­tion app. You can try them now with 2 free months of Skill­share!
The Adobe Fres­co class­es on Skill­share are:
Learn­ing to Use Adobe Fres­co — In this class, illus­tra­tor Lisk Feng demon­strates the essen­tials of Fres­co while shar­ing her approach to cre­ativ­i­ty.
Illus­tra­tive Typog­ra­phy — Design­er Jen­net Liaw shares her cre­ative process from con­cept to sketch to final—all in Fres­co.
Fan­ta­sy Illus­tra­tion — Here, illus­tra­tor Ira Mar­cks invites you into the world of imag­i­na­tive illus­tra­tion by shar­ing her sto­ry­telling essen­tials and show­ing how to sketch, ink, and cre­ate with the brush­es in Fres­co.
Let­ter­ing with Botan­i­cals — Let illus­tra­tor Dylan Mierzwin­s­ki take you through a sim­ple yet stun­ning flo­ral piece using Fres­co. She'll show how to use Fres­co's brush­es in every phase, from ideat­ing to sketch­ing to refine­ments.
Play­ful, Abstract Art — Design­er Rich Arm­strong encour­ages play in his class. Learn how to use Fres­co's tools in unex­pect­ed ways and how to com­bine fea­tures to cre­ate your own abstract art.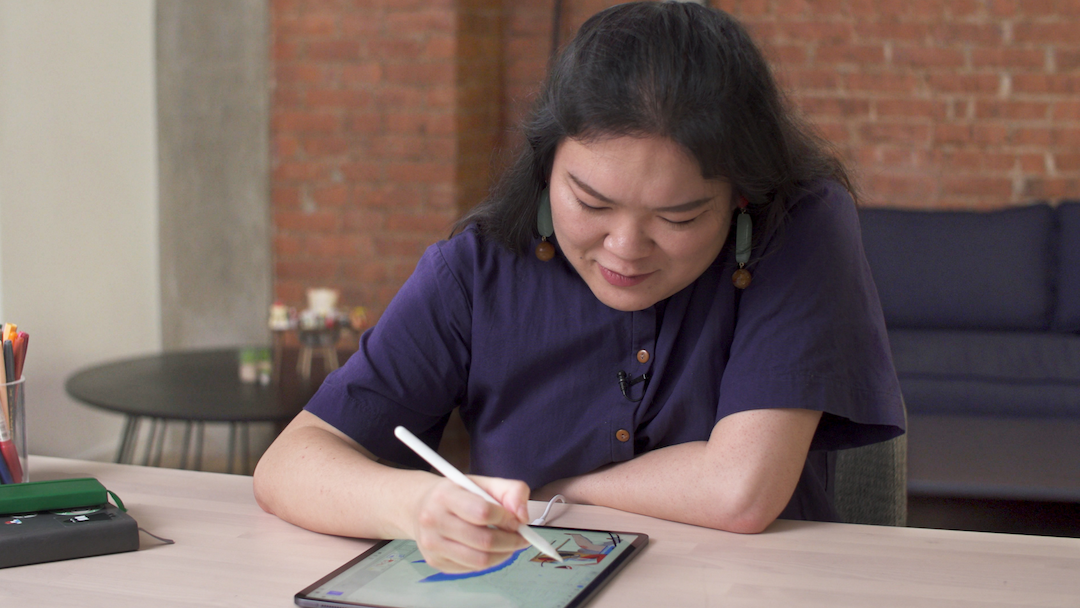 (Lisk and I were in the same MFA Illus­tra­tion Prac­tice pro­gram at the Mary­land Insti­tute Col­lege of Art, and so I was excit­ed to see a friend­ly face when learn­ing Fres­co.)
The thing that I enjoy most about Skill­share's online class­es is that in addi­tion to learn­ing tech­niques, you're also get­ting insight into how an instruc­tor thinks. Lisk's course is no dif­fer­ent; she shares her thoughts about craft­ing illus­tra­tions and empha­sizes why it's so impor­tant that we each find our own cre­ative voice by mak­ing the work that we want to make—not what we think some­one else wants to see.
Groundbreaking Re-Invented Marketing Funnel & Page Builder
I tried all of the exercises in Lisk's Skillshare course. At just over an hour, she shares Fresco's amazing features and will inspire you to create illustrations in a way that's authentic to you.
When you're learn­ing a new pro­gram, it can be super chal­leng­ing to get your bear­ings, and even the lit­tle tasks can be con­fus­ing. How do I erase some­thing? What does that clear cir­cle at the cor­ner of the screen mean? What are all these but­tons on the side­bar? I appre­ci­ate that Lisk took the time to go over the need-to-know func­tions at a pace that I could fol­low along on my own iPad. (She also intro­duced "live brush­es" to me that are just so cool.)
The tech­niques cov­ered in the Learn­ing to Use Adobe Fres­co class pro­vid­ed me with a good base­line to use the pro­gram for oth­er work, and Lisk's "dream stu­dio" prompt was per­fect for play­ing around with the app as I became more com­fort­able with the tools.
I encour­age you to give Adobe Fres­co and Skill­share a try, and this is the per­fect time to do it. I've got a deal for 2 months of Skill­share for free! Once you've mas­tered Fres­co, be sure to try more of their thou­sands of classes—you'll be glad you did.
This post is spon­sored by Skill­share but words and opin­ions are my own. Thanks for sup­port­ing the brands that sup­port Brown Paper Bag!
Source link Art
You will be amazed at how quickly you progress