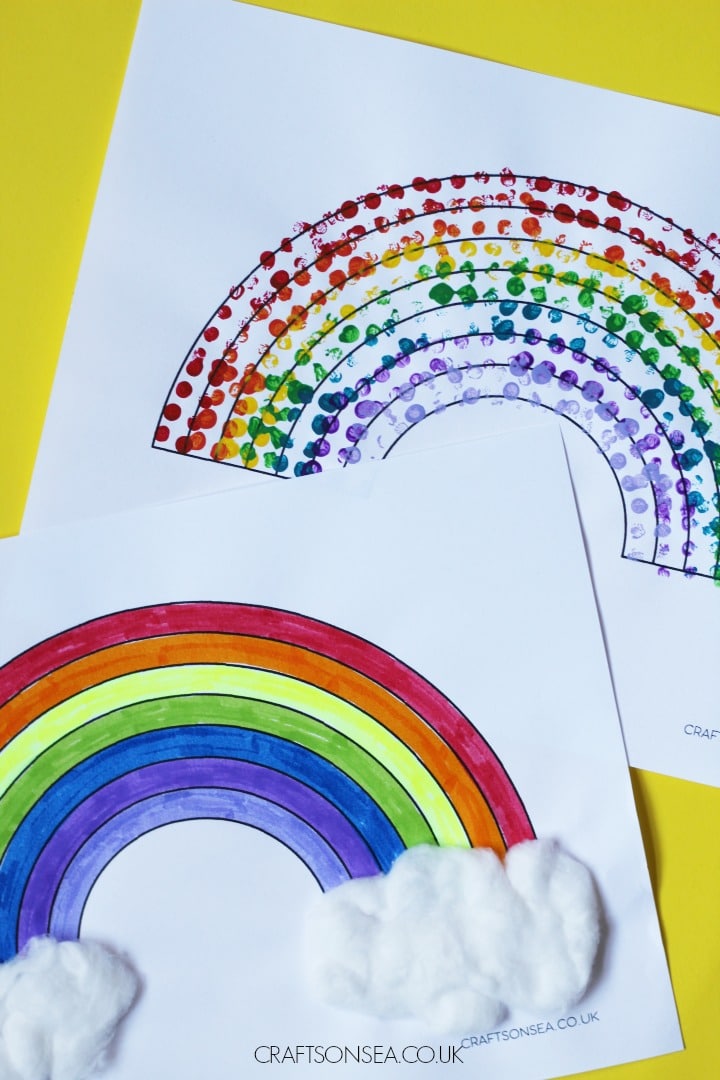 These rainbow crafts for kids are all super easy to make and using our free template means that they're super quick to set up too! Rainbow crafts are brilliant for a number of themes that you might be looking at with your child, weather crafts and activities, St Patricks Day, spring, summer, colour, or just because you really like rainbows. There's no shame in that one either as we love everything rainbow in our house (although my kids do tell me to tone down the clothes if they think I look like a kids tv presenter!)
There are loads of ways that you can use our rainbow template but today I'm sharing three easy and quick to set up ideas that you can do at home. I'm sure you'll think of lots more yourself too! I'll also be sharing some rainbow books for kids and more of our favourite weather themed crafts that we love.
I have included links to affiliate programmes in this post if you click on these and buy I may earn a small commission. Affiliate links are marked with an asterisk.
Rainbow Template
All of the crafts that I'm sharing today have been made using our free rainbow template. Grab as many copies of it as you would like and try out lots of ways to make a rainbow.
Like these crafts? Make sure that you bookmark this page or pin an image for later so that you have them to hand when you're ready to get creative.
Rainbow Books for Kids
Love books? Us too. These rainbow themed books for children all look fantastic and reading them together would be a great excuse for some chill out time together after a busy time crafting.
Crafts_for_Kids" class="ez-toc-section" style="color: #000000;">More Weather Crafts for Kids

These cute rain crafts for kids are made using our free rain cloud template and would be a great craft to make alongside these rainbow crafts.

These paper plate snowflakes were made by my kids and are great for decorating too!

This handprint sun craft is super cute and even very young kids can help with painting the paper plate.