rojkind arquitectos embeds a cluster of ummara villas within mexico hillside
rojkind arquitectos together with amasA estudio unveils imagery of its ongoing hospitality project 'ummara.' located along a wine route of mexico's 'valle de guadalupe,' the project is planned through an understanding of the value of nature and its historical use as a sanctuary and refuge, allowing the visitor to reconnect with the environment and with the self. ummara is designed for those who seek to embrace the natural context, discover extraordinary places, celebrate the regional food, and find balance in the elements.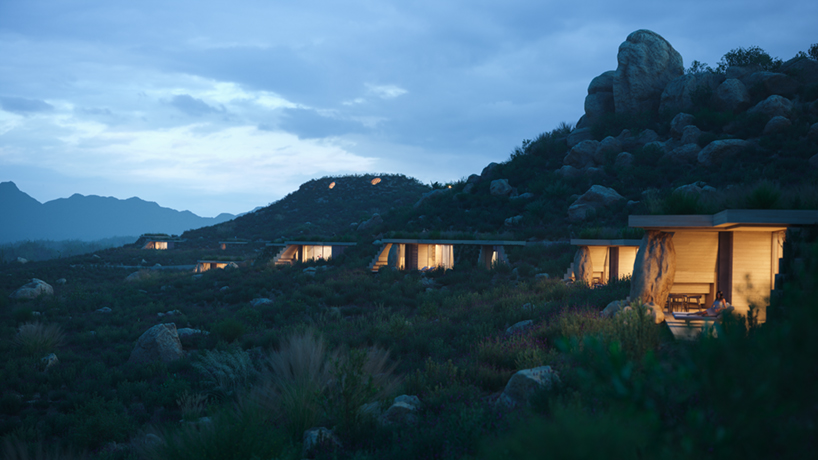 © rojkind arquitectos, renders by hossein yadollahpour
rojkind arquitectos and amasA estudio curates the ummara master plan with respect for the wine-growing heritage of the 'tres cerritos' land. the project is inspired by the origins of the valley and franciscan architecture interpreted through concave slabs arranged on a central patio that invites to introspection. scattered across the region, ummara encompasses an enology project for grape cultivation and wine production as well as olive derivatives such as oils and fragrances, lavender and orange trees, creating an new category and concept of hospitality under a DNA and premise that redefines holistic and multi-sensory perspectives.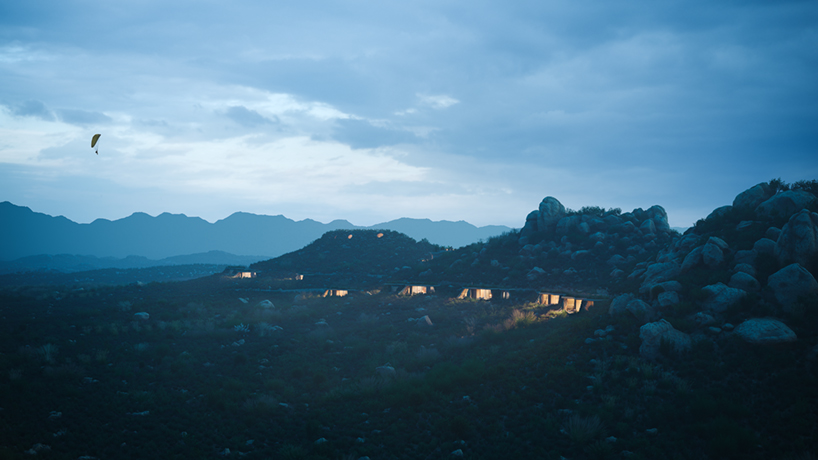 the design team at rojkind and amasA invites visitors upward to the top of the three hills, occupied by 28 villas embedded into the slope. along one side of the land, with sweeping views across the guadalupe valley, there's a pool area that suggests the form of the muddied earth as a natural container of water. the spaces are made for privacy and regenerative rest in contact with the mountain which offers adventure, calm, and wisdom to connect with nature and freedom. upward through the dense vegetation is a restaurant occupying a centralized patio. this tasting and meditation space allows the visitor to develop a unique experience and to connect with the senses, the inner self, and with others.