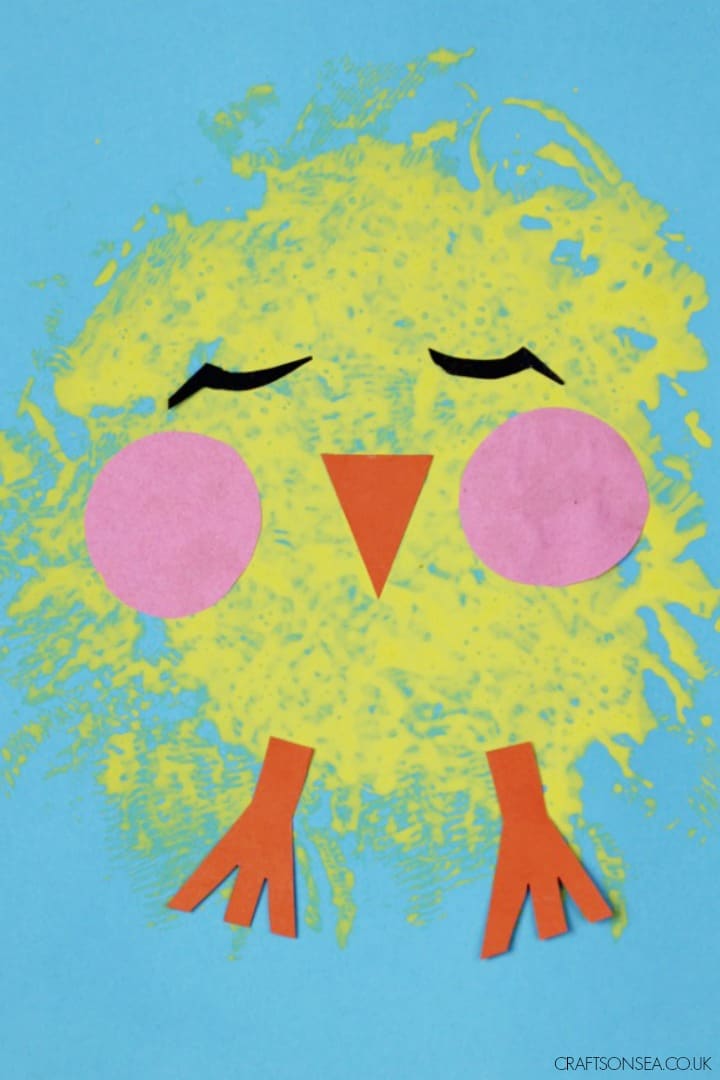 This easy chick craft is perfect for younger kids to make as an Easter or spring craft. The big sponge is perfect for little hands to hold and the printing is super easy for them to do. I think it would make a great cover for an Easter card too! My daughter made these as a preschooler and loved doing so, they're super cute and really cheerful!
Like this chick craft? Make sure that you bookmark this page  or pin an image so that you don't forget about it, plus keep reading for more easy Easter craft ideas.
Easy Chick Craft Materials
Shower sponge
Card
Plate
Yellow paint
Orange card
Glue
Scissors
Let's Make It!
Start by putting some yellow paint onto your plate, you'll want a nice flat surface to work with for this. Next up dab your shower sponge into the paint, your sponge will hold a lot of paint so you'll want to use card for this craft rather than paper or it will get very sorry very quickly! Dab your paint onto your card, one dab will make you a little chick while moving it around the paper more will give you a bigger one, just make sure you keep to a circular shape!
Groundbreaking Re-Invented Marketing Funnel & Page Builder
I'd normally share a couple of photos of materials at this point or some process shots so you can see a step by step guide but as my daughter and I were crafting together it just totally didn't work on this occasion and believe me no one wants to get out professional photography lights when they have a four year old armed with every single paint they could find! I'm sure you can still follow the instructions on this craft though to be able to make it (if a four year old can, you can too right?!)
Once we'd painted our chicks bodies we cut out beaks and feet from orange card, eyes from black card and I cut pink cheeks out too. I had to help with the cutting as my daughter wanted 'girl eyes' for her chick rather than the circles I originally suggested and I have to admit they do look cuter. We stuck all our chick's features on with glue and this is the one my daughter created.
More Easy Easter Crafts for Kids
This foil painted Easter egg craft is super easy for kids to do and comes with a free printable too.
This rabbit paper plate twirler is really cute and a great way to practice scissor skills too.
Or why not check out this round up of 15 chick crafts for kids -all super cute too!
Source link Craft
You will be amazed at how quickly you progress