studio nuy van noort inserts holiday villa in the midst of sicily's rolling hills and olive groves
'villa belluccelli' by studio nuy van noort is a sleek holiday villa inserted in the midst of sicily's landscape of rolling green hills and olive groves. located near the historic town of noto, the residence is designed as a white-hued volume with large openings that connect the interior with the natural topography. a 'tower' extends through the main frame, forming a striking accent topped with a platform that offers views of the green surroundings.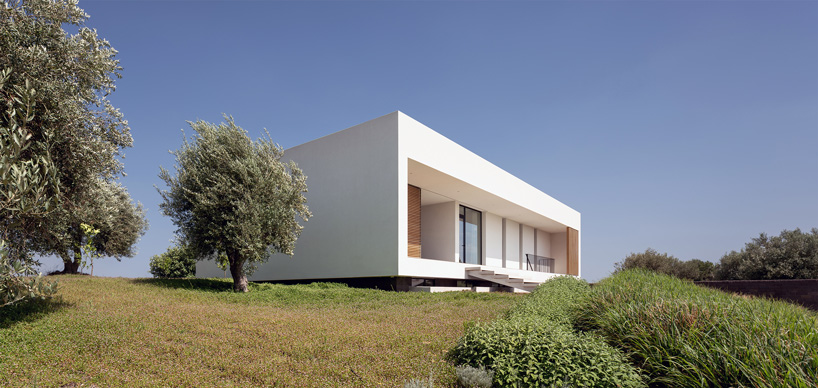 images by katja effting + studio nuy van noort
studio nuy van noort developed the shape and layout of the villa with local conditions in mind. the building mass and white color protect the interior from the summer heat, while large overhangs provide sufficient shade and a wooden pergola in the patio filters the sunlight. additionally, its orientation is set perpendicular to the prevailing wind direction in order for the wind to blow right through the entire home for cooling.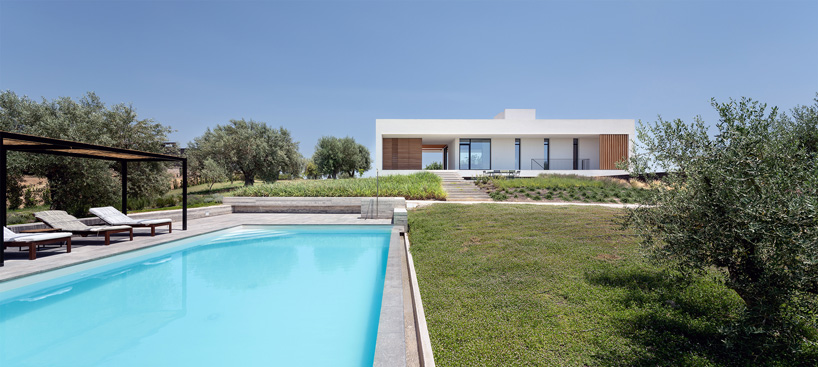 though the villa appears as a simple, single-story volume, it actually consists of three levels: a basement, ground floor, and roof terrace. the ground floor encloses the living room with an open kitchen, bathroom and two bedrooms. this level is surrounded by spacious verandas on either sides, while a patio connects the verandas with the central living area and the guest house with bedroom and bathroom. openings are strategically placed so that each room benefits from a unique view of the surroundings.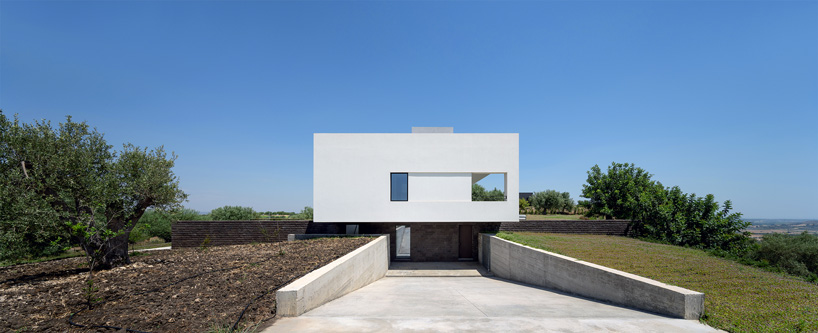 an external staircase leads from the western veranda to the basement, where additional bedrooms, a bathroom, a utility room and storage are located. from the east veranda, a staircase along the tower takes residents up to the roof terrace, where they can enjoy the view, or sleep in the open air and under the stars. the material palette was defined in close collaboration with the client, with selected materials including different types of stucco, volcanic stone from mount etna, and large steel frames for the openings.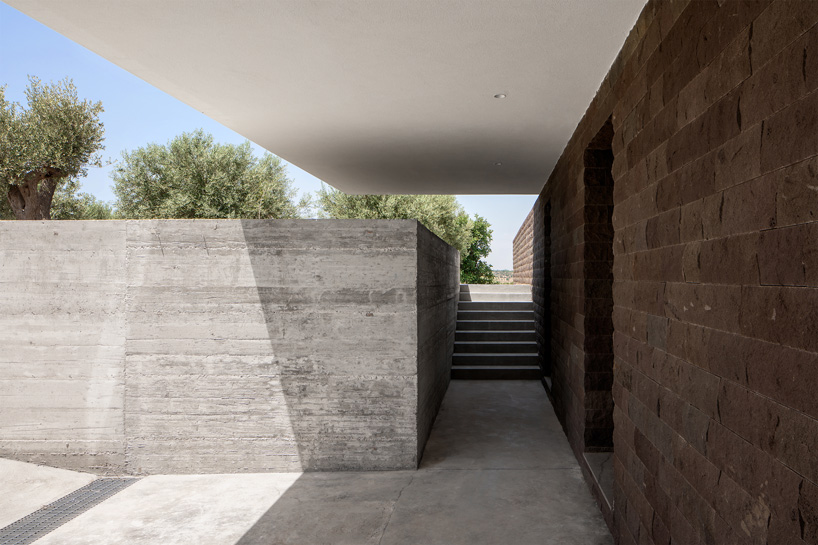 the residence is surrounded by olive trees, some of which are over 100 years old and from which the owners extract their own olive oil. its garden, which blends harmoniously with the surrounding landscape, has been designed using local plant and herb species resistant to the sicilian climate. within this setting, the villa, whose white frame is set slightly above the ground, on a plinth of lava stone, appears to float over the green landscape.